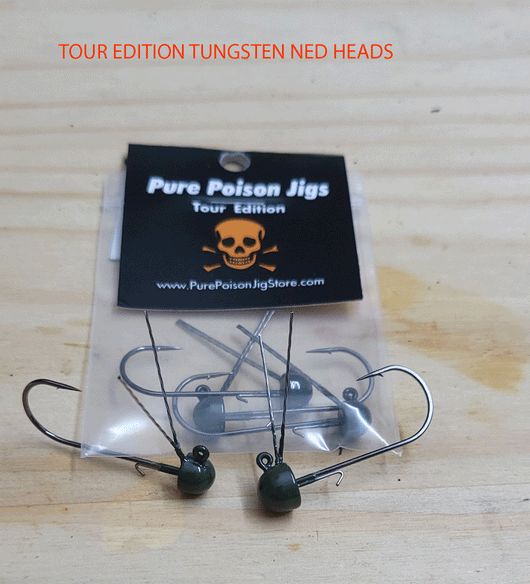 Pure Poison Tour Edition Tungsten NED Head
Pure Poison Jig Company LLC
The NED Rig catches fish.  Period, end of discussion. It's one of the most versatile baits you can have in your arsenal.  Those who master the NED, understand it's not just a shallow bait you cast to catch numbers of little ones. True masters of the NED know you can fish it as deep as you wish with the right equipment, you can toss it into weeds, it can be dropped on ledges, skipped beneath docks and for those who have no fear of losing one, it can be worked through cover.  In all those scenarios NED will do work and get you bitten repeatedly.  At PPJ we learned to embrace the NED, become one with it, three years ago...and we took a whole lotta money from people throwing it as we did.  So we decided PPJ would get into the NED game and make one to do the things we wanted it to do. 
Our Tour NED is 97 percent Tungsten for superior feel.  It features a 2/0 straight shank 1x forged light wire hook that is razor sharp. The bigger hook gives you better hook up ratios, expands the menu of baits you can throw on it, and when you get that big bite, from that big fish, he isn't bending anything and there will be no escape. It features a welded keeper beneath the head, making it ideal for the modern "super plastics" as well as traditional Plastisol based worms or super soft hand pour models many who throw old NED like to use.  Our head is design is a narrow dome shape to give your bait a seductive wiggle on the fall, that with larger baits will actually permit your bait edges to protrude beneath the flattened bottom of the head around it's entire circumference,  creating drag to slow the fall, (especially in deep water) while maintaining the ability to keep it upright in bottom presentations.  It features a double stainless- steel wire weed guard to keep it from getting hung up in cover, that isn't so stiff it becomes a fish guard or injures your fish either. 
They are available in 2 weights, 1/10 ounce and 1/6 oz, because in our extensive experience using NED in every scenario, these two weights are really all you need once you master it.  You can have 2 colors, Green pumpkin or black.  Why only 2 head colors you ask?  Because as NED Jedi Masters,  we say that's all you need, everything else is just eye candy to catch you and your money and the fish don't care.  We keep it simple. Keeping it simple also keeps the price to you down. 
We will put our Tour NED up against any brand, any model, anywhere, anytime, without hesitation.  It's that good, and we package and sell them at a fair price. Giving you the performance you need, at a price you can afford. 

SOLD 3 PER PACK