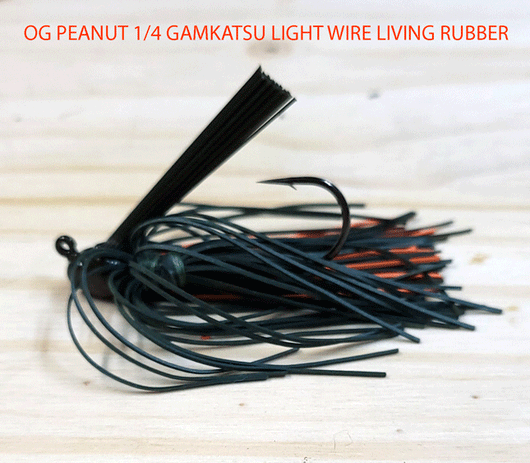 THE OG PEANUT 1/4 OZ WITH GAMAKATSU LIGHT WIRE 4/0 HOOK FLAT LIVING RUBBER
Pure Poison Jig Company LLC
Regular price $12.49 Sale
We call this one the " CEO edition"  of the OG Peanut Jig line.  
It's been produced quietly for years for a handful of clients who requested we build it with a light wire gammy versus our standard Mustad hook.  It's been to battle on every major tournament circuit that matters and got guys paid.
The OG Gammy as we call it uses a 4/0 round bend, light wire, Gamakatsu hook that is sharp as it gets. It features a full size weed guard for a reason.  It's hand tied using old school flat living rubber secured to the jig by modern materials...i.e. it's tied with braid. No worries about your thread degrading over time or a big bass blowing up your jig.  Don't let the size of it fool you either. This thing punches like a heavyweight.  Those who know how and where to use it properly, vacuum clean brush piles and rocky banks with frightening regularity, especially in winter and early spring. 
  Try it once and you will see why those clients waited in line to get them,  didn't reveal they had a stash of them, and when caught throwing them, never told a soul where they were having them made. They never quibbled over prices either....
 Now the cat is out of the bag and you can buy as many as you like too. 
SOLD 3 JIGS PER PACK